Purple Heart Day is observed on August 7 each year and is a time for Americans to pause to remember and honor the brave men and women who were either wounded on the battlefield or paid the ultimate sacrifice with their lives. Purple Heart Day is also known as National Purple Heart Day, Purple Heart Recognition Day and Purple Heart Appreciation Day.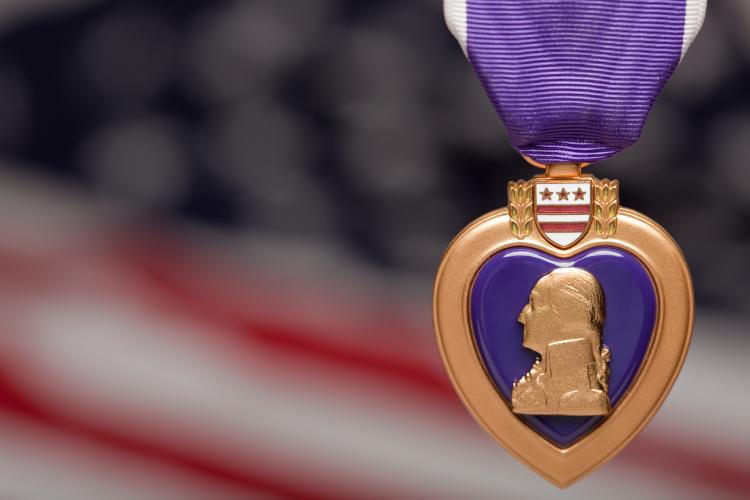 Purple Heart Day will be observed on Wednesday, August 7, 2019.
The holiday was first observed in 2014, is considered an unofficial observance meaning that businesses, government offices etc. do not close on this day.
During the American Revolutionary War, the Badge for Military Merit decorated six known soldiers. Purple Heart Day on August 7 commemorates the creation of the oldest American military decoration for military merit, the Purple Heart and honors the men and women who are of the Military Order of the Purple Heart.
Created by General George Washington in 1782 to be presented to soldiers for "any singularly meritorious action", the decoration was a purple, heart-shaped piece of silk bound with a thin edge of silver and the word Merit embroidered in silver across the face.
It is unknown who designed the Badge of Merit. It is also unknown how many soldiers may have received the honor symbolizing the courage and devotion of an American Patriot. According to The Badge of Military Merit by Professor Ray Raymond, The "Book of Merit" where the names of possible recipients and their deeds were recorded has long been missing. According to the Badge of Military Merit by Professor Ray Raymond,
Until Washington's 200th birthday, the Purple Heart remained a Revolutionary War footnote. Through the efforts of General Douglas MacArthur, the U.S. War Department created the Order of the Purple Heart. Today the medal bears a bust of George Washington and his coat of arms.
One contemporary interpretation of the color of the Purple Heart is that the color represents the blood of all those who have made sacrifices in war, but traditionally the color is thought to represent the courage of those who serve. The original color of the Badge of Military Merit was purple, so it is logical that when the Purple Heart was created to celebrate George Washington's bicentennial, the original color of the medal he created would be used to honor his memory.
So we maybe we need some holiday decorations such as
satin ribbons
,
grosgrain ribbons
,
cotton ribbons
,
organza ribbon
,
ribbons
to decorate ourselves or our house for next week specail
Violet Series Polyester Grosgrain Ribbon
Violet Ribbons
.
Best Place To Buy Ribbons,Bows,Trims and Crafts Ribbons Bazaar Ribbons Maker --
ymribbon.com